Absolute Steel's Metal Building Installation assembly series starts with this video. This video will goes through certain tools and safety precautions and should be viewed prior to starting the Metal Building Installation video series.
Welcome to Absolute Steel! We fabricate and distribute our structures nationwide in over 1450 different standard sizes and five different styles. You are dealing directly with the source when you purchase from Absolute Steel. Absolute Steel buildings are in use by all branches of our Armed Services, a fact that we're very proud of. And of course, hundreds of individual homeowners and businesses buy our buildings every single year.
The secret to our success?…besides superlative customer service, pricing and quality product?
Ease of assembly and that's what this DVD is all about.  So sit back and watch this presentation all the way through before putting your building together. I want you to see all the assembly steps so you'll understand how easy an Absolute Steel building goes together!  Whether a carport, RV cover or a building, we design our kits to go up easy so that most anyone with the right tools can have the satisfaction of doing the job themselves.  But the most important thing to have isn't a tool at all. It's safety glasses.  If you don't have 'em, get a pair and wear them. The more often you have them on, the better.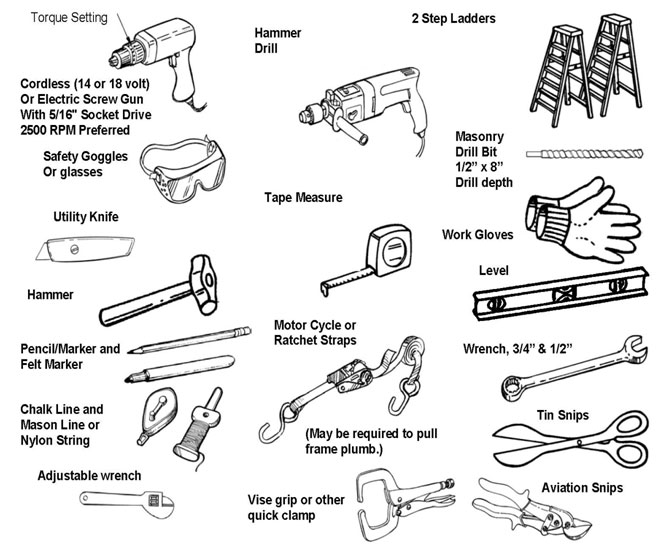 Speaking of the right tools, here's most of the tools you'll need to get the job done right.  There's a complete list in your assembly manual that comes with your building in case you're not sure, you've got them all. The tools that are gonna get the most use are the drill/drivers. You'll need a good, heavy duty model. We don't recommend a cordless because you'll have to stop and change batteries too much. However we do recommend the Dewalt's model DW 257, 2500 rpm driver   Don't have one? Well, besides manufacturing a great, easy-to-assemble building Absolute Steel also gives you the perfect excuse to buy some of those tools you've always wanted—so go get yourself a good heavy, duty drill/driver and save that cordless for those less demanding jobs around the house!
Now, assuming you're mounting your structure on concrete, you're going to need to drill holes in the concrete which is really easy if you use one of those bigger hammer drills with a 1/2 " masonry bit. I know a lot of the regular sized drills available these days have a hammer option on them but a regular sized drill just takes too long. You can rent a larger sized hammer drill most anywhere and it will cut into the concrete like it was butter, saving you valuable time.
Since the building we're putting up in this demonstration might be a different size or style than the one you're building, some of these instructions may not apply to your project, or we might have made some design changes, so we'll try to address different aspects as we go along but just know that every building that leaves Absolute Steel includes assembly instructions that are specific to the building you ordered. To keep things simple all the basic components are individually packaged and labeled. Things like a Back Enclosure or a Pedestrian Door – they're all separately packed and labeled so you don't have a pile of parts you're trying to sort through.
For buildings that are shipped out of our home State of Arizona, we don't usually supply windows, garage doors or pedestrian doors. These items can be purchased by you locally and usually at a price cheaper than we can ship it to you. For example, you can pick up a Stanley or similar brand steel pedestrian door at Home Depot with all the dead bolt hardware for about $175.00 out the door. We know a part of why you purchase from us is to save money, so if we can point you in a better direction, we'll certainly do so. As for garage doors, Lowe's or Home Depot offers installation as well as your local garage door company and we do recommend a professional for the garage doors.
Video Index:
---